Walleye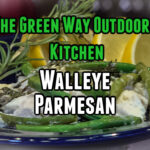 Ingredients:
1 Walleye fillet
Aluminum foil
1 lemon, juiced
Parmesan cheese
1 Tbsp capers
small handful of green beans
1 tsp fresh Thyme, minced
Salt and pepper, to taste
Directions:
Preheat oven to 375 degrees
Get a long enough piece of metal foil to wrap all ingredients (24 inches) and fold in half.
Lightly coat fish with lemon juice, salt, pepper, and place the filet in the center of one side of the foil.
Add remaining ingredients.
Fold the foil around the ingredients encasing everything.
Place the foil packet on a baking sheet and put it in the oven.
Bake for 12-15 minutes depending on the thickness of the filet.
Remove from the oven, cut open the pouch and serve.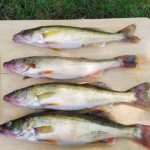 Ingredients: 
4 walleye fillet
1/2lb bacon
1 Lemon
1/4 Stick melted butter
4 tbsp Honey
1 tsp onion powder
Salt & Pepper to taste
Directions:
Preheat oven to 400 degrees F (200 degrees C)Line a 9×13-inch baking dish with foil.
Lightly cook the bacon and create a bed on top of the foil with the cooked bacon.
Place your fillets over the bacon.
Coat the fillets with half of a lemon juice.
Drizzle the melted butter over the fillets.
Pour honey over each individual fillet.
Sprinkle on onion powder, salt & pepper.
Cook for 12-15 minutes in your oven.
Plate & Serve.