Episode 05 – Honey Lemon Walleye with Bacon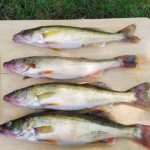 Ingredients: 
4 walleye fillet
1/2lb bacon
1 Lemon
1/4 Stick melted butter
4 tbsp Honey
1 tsp onion powder
Salt & Pepper to taste
Directions:
Preheat oven to 400 degrees F (200 degrees C)Line a 9×13-inch baking dish with foil.
Lightly cook the bacon and create a bed on top of the foil with the cooked bacon.
Place your fillets over the bacon.
Coat the fillets with half of a lemon juice.
Drizzle the melted butter over the fillets.
Pour honey over each individual fillet.
Sprinkle on onion powder, salt & pepper.
Cook for 12-15 minutes in your oven.
Plate & Serve.