Hunting Show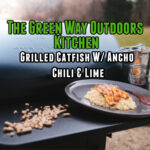 Ingredients:
Whole milk
1 lime, juiced
1 tsp ground cumin
1/2 tsp Ancho Chili powder
1 tsp ground coriander
1 tsp cayenne pepper
salt
pepper
Directions:
Soak fish in milk for 15-20 minutes.
Preheat grill to 375.
Combine cumin, garlic, paprika, ancho chili, coriander, and cayenne in a small bowl.
Add lime juice and enough olive oil to make a paste.
Coat the fish and add to grill. Cook for 5-6 minutes.
Flip and cook until easily flaked with a fork.
Enjoy!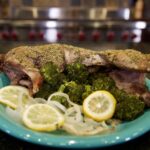 Ingredients
1 cottontail rabbit, patted dry
1 large white onion, thinly sliced
2 lemons, thinly sliced
1 Lemon
2 Tbsp. olive oil
2 tsp  dried rosemary
2 Tbsp parsley, chopped
½ tsp ground cumin
1 head broccoli, florets cut into bite size pieces
Salt, pepper, and garlic powder to taste
Directions
Preheat oven to 350°F
Mix together the rosemary, parsley, and cumin.
Layer the onion and lemon on the bottom of a 9"x13" baking pan.
Lightly coat the rabbit with olive oil and rub inside and out with the rosemary mixture.
Put the prepared rabbit into the pan, favoring one side.
Bake for 20 minutes, uncovered.
Remove pan from the oven. Fill the remainder of the pan with the broccoli making sure it isn't touching the rabbit.
Add a light drizzle of olive oil and a pinch of salt, pepper, and garlic powder to the broccoli.
Squeeze the remaining lemon over the rabbit.
Cover pan with foil and return to oven, checking every 10-15 minutes until you reach 160°F in the thickest part of one of the back legs. Use an instant read thermometer and make sure you don't go through the meat or hit bone as these will affect your reading.
Plate and enjoy!