Episode 14 – Grilled Catfish with Ancho Chili & Lime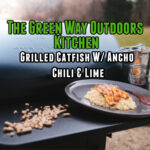 Ingredients:
Whole milk
1 lime, juiced
1 tsp ground cumin
1/2 tsp Ancho Chili powder
1 tsp ground coriander
1 tsp cayenne pepper
salt
pepper
Directions:
Soak fish in milk for 15-20 minutes.
Preheat grill to 375.
Combine cumin, garlic, paprika, ancho chili, coriander, and cayenne in a small bowl.
Add lime juice and enough olive oil to make a paste.
Coat the fish and add to grill. Cook for 5-6 minutes.
Flip and cook until easily flaked with a fork.
Enjoy!