Ingredients:
2 large duck breasts (we used mallard)
3 shallots, sliced
2 garlic cloves, minced
1 pint cremini mushrooms, sliced
1/3 C sweet vermouth
1 1/2 C low sodium chicken broth
1/4 C heavy cream
1 tsp dried basil
2 Tbsp fresh parsley
1/2 C grated parmesan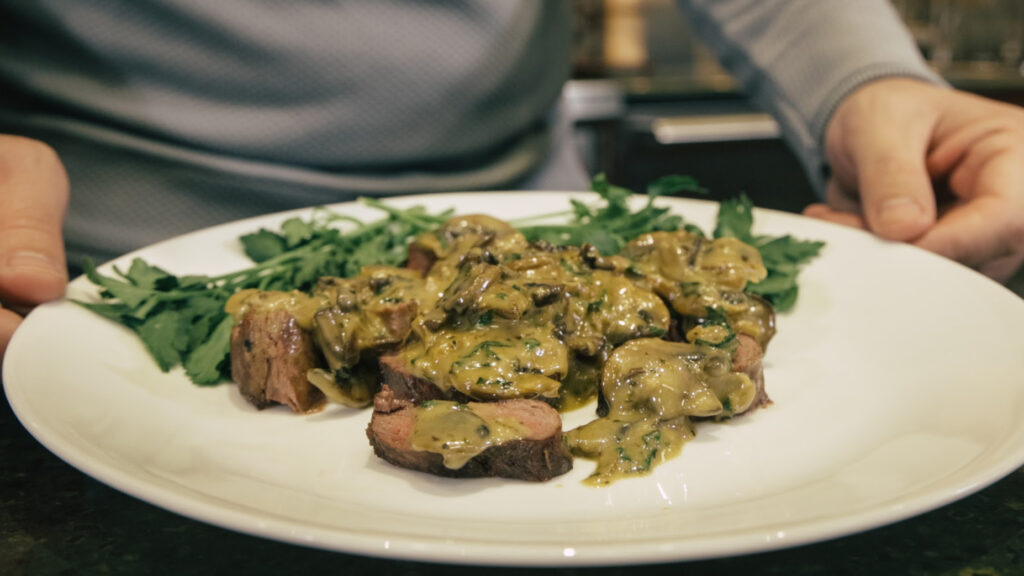 Directions:
Over medium heat, coat the bottom of the large skillet with olive oil.
Once shimmering, add shallots and garlic, stirring occasionally until the shallots become translucent (6-8 minutes)
Add mushrooms, salt, and pepper. Stir mushrooms until the liquid they release has cooked off.
Add vermouth to the skillet, away from any open flames
Return skillet to heat and allow to cook off for 2-3 minutes.
Add broth. Once simmering, reduce heat to low-medium low and let simmer for 30 minutes.
While waiting for the broth to cook down, salt and pepper each breast on both sides.
Over medium heat, coat an oven safe skillet with olive oil. Wehn shimmering, add breast and cook for 6-7 minutes.
Flip the breasts and cook for an additional 4 minutes or until Internal temperature reads 145°F. Set aside.
Once broth finishes simmering, add heavy cream, herbs, and cheese.
Plate the breasts, sliced or whole, and smother with the mushroom sauce.