Episode 16 – Blackberry Wild Boar Backstrap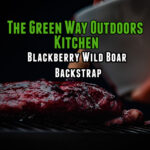 Ingredients:
Whole milk, for soaking
1 wild pig backstrap, about 18 oz.
1/4 cup soy sauce
1 Tbsp rosemary
5 oz. Blackberry Jam or preserves
Directions:
Soak the wild pig in milk overnight.
Preheat grill to 375 degrees F. (Include any instructions that you included related to the grill for catfish).
Mix the jam, soy sauce, and rosemary to make a thin paste.
Rinse the pig and lightly coat in the blackberry mixture.
Put pig in grill and cook, basting with blackberry mixture every 10 minutes, until the internal temp reaches 145 degrees F, about 45-50 minutes total.
Pull from the grill and let rest for 10 minutes.
Slice and serve.