Episode 09 – Crawfish Etouffee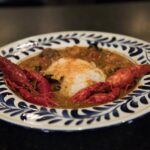 Ingredients:
3 cups chicken stock, low sodium
1 oz. dried mushrooms (we used porcini)
½ cup butter, unsalted
½ cup all purpose flour
1 small onion, chopped
2 stalks celery, chopped
1 medium red bell pepper, center/seeds removed, choose
2 cloves of garlic, sliced
15 oz can chopped tomatoes
1 Tbsp Tomato Paste
1.5 Tbsp Barry's Seasoning
12 oz Cooked Crawfish
Serve with rice.
Directions:
Heat 3 cups of the stock and add the dried mushrooms. Let soak for 10 minutes then remove from the stock and chop. Set both the stock and the rehydrated mushrooms aside.
Heat a heavy bottom pot on medium heat. Add butter and flour. Stir constantly until the roux develops a light brown color. Can take between 30-40 minutes.
Add your mushrooms, onion, celery, and bell pepper. Cook for about 10 minutes. Add your garlic, stewed tomatoes, stock, tomato paste, and seasoning. Bring to a boil, then reduce heat to low. Let simmer for 45 minutes. Add your cooked crawfish. Cook for an additional five minutes, season with salt/pepper to your liking. Serve over hot rice. Garnish with freshly chopped parsley.