Trout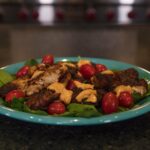 Ingredients
2 tsp. paprika
1 tsp. cayenne pepper
1 tsp. ground cumin
1 tsp. black pepper
1 tsp. dried thyme
1 tsp. dried oregano
1 tsp. garlic powder
1 tsp. salt
1 lake trout, filleted
3 Tbsp. mayonnaise
1 Tbsp. olive oil
Baby spinach
Cherry tomatoes
 Directions
Mix the paprika, cayenne pepper, ground cumin, pepper, thyme, oregano, garlic, and salt in a small bowl. Pull 1 teaspoon and set aside.
Melt the butter in a shallow dish.
Dip each side of each fillet in the butter. Sprinkle both sides of each fillet with spices, thoroughly coating.
Heat a heavy cast iron pan on medium to high heat until hot enough to boil off 1 teaspoon of water in 5-10 seconds.
Using long tongs to keep distance between yourself and the spattering butter, place fillets into the hot pan. Separate them, they shouldn't be touching.
Add 1 teaspoon of the butter to the top of each fillet. Cook for 2 minutes until fish has charred or "blackened".
Flip fillets, adding 1 teaspoon melted butter over each, and cook both sides match.
Cut into one of the fillets to make sure it is fully cooked. If your fillets are thicker and aren't finished cooking through, leave on second side until cooked to desired level.
Remove fish from heat.
Add the spinach and tomatoes to your plate. Top with the blackened trout.
Mix the mayonnaise and olive oil with 1 teaspoon of the spice mixture and use as dressing.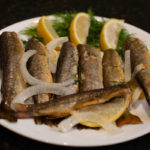 Ingredients:
Brook Trout, gutted and thoroughly cleaned
Olive oil, extra virgin
Salt and pepper, to taste
1 lemon, cut into wedges small enough to fit inside your fish
Dill sprigs
½ white onion, halved and sliced
Warm water
Directions:
Preheat oven to 400°F.
Prepare a baking dish by lightly coating it with olive oil.
Lightly salt and pepper the cavity of each fish.
Place trout on oiled baking dish and drizzle with olive oil. Stuff each fish with 2 sprigs of dill, a lemon wedge and onion slices.
Bake for 10 minutes.
Add a couple tablespoons of water to the dish (this prevents the fish from drying out).
Continue baking until the fish flakes easy with a fork, about 10 more minutes.