Ingredients:
2 Goose breasts
1/4 C Olive oil
Salt and pepper to taste
For the cranberries:
12 oz cranberries fresh or thawed
1/2 C honey
1 tsp fresh rosemary, minced
1 tsp fresh thyme, minced
Salt and pepper, to taste (start with 1/8 tsp each)
Zest from an orange, removed in strips with vegetable peeler, avoiding white pith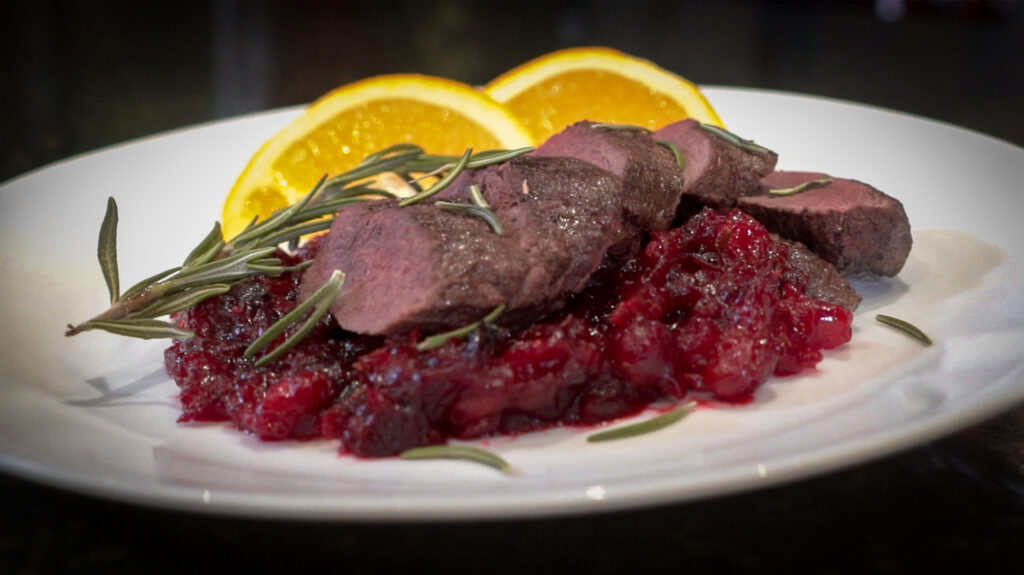 Directions:
Soak the breasts in salt water overnight.
Combine all cranberry ingredients in a large saucepan over medium heat.
Bring to a boil, then reduce heat to low and allow to simmer until cranberries split, about 15-20 minutes.
Lightly rinse breasts to remove most of the salt. Pepper both sides.
Heat a generous drizzle of olive oil in a hot skillet, then add the breasts.
Seat for four minutes, then flip and repeat on the other side.
Move the skillet to the oven and cook until the internal temperature of the thickest part of the breast is between 135-145 deg F.
Remove from the skillet and let rest for 10 minutes.
Slice the breast meat thin and serve with cooled cranberry sauce.