Episode 12 – Cajun Baked Red Fish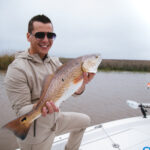 Ingredients:
Olive oil
One small white onion, sliced
Six stalks celery, chopped
One red bell pepper
One lemon
Six sprigs of thyme
Red drum fillets with skin removed
One bunch of asparagus, end trimmed
One cup ginger ale
One tsp. baking soda
One quarter cup cornstarch
One cup all-purpose flour
Directions for Baked Drum:
On a baking sheet, add wax paper, then spread olive oil over the wax paper. After that, you'll want to add chopped onions, celery, red pepper, lemon and sprigs of thyme. After you've completed making your veggie bed, take your fish fillets, oil them and add salt and pepper to taste. After seasoning your fillets, add them to your veggie bed. Once again, add your chopped onions, celery, red pepper, lemon and sprigs of thyme on top of the fillets and veggie bed. Next, place your fillets in the oven that has been preheated to 400 degrees and let cook for 15-20 minutes.
Asparagus and Cajun Aioli:
In large mixing bowl, add the flour, cornstarch, baking soda, and ginger ale. Mix until smooth. Finally, put your asparagus in the batter and coat them. Carefully move the battered asparagus to the canola oil that has been heated to roughly 365 degrees. Let the asparagus cook for about 4-5 minutes. Plate, serve, and enjoy!