Episode 18 – Raccoon Fajitas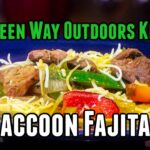 Ingredients:
Light olive oil
1 lemon, juiced
1 lb. Raccoon meat, cut into thin strips
1/2 tsp chili powder
1/2 tsp paprika
1/2 tsp red pepper flakes
1 tsp salt
1 tsp ground cumin
1 tsp garlic powder
1 tsp dried oregano
1/4 tsp cayenne pepper
1 green bell pepper, julienned
1 red pepper, julienned
4 green onions, roots removed and thinly sliced
1 small white onion, sliced
6-8 yellow corn tortillas, warmed
Fajita toppings (cheese, salsa, sour cream)
Directions:
Soak the Raccoon meat in milk overnight, minimum of 4 hours. When preparing the meat, remove as much fat as possible.
In a large bowl, combine 2 Tbsp of oil, lemon juice, and spices. Add the raccoon meat and toss to coat. Cook as is or marinate for additional flavor.
In a large saute pan over high heat, heat a generous drizzle of olive oil until shimmering (this is where the light olive oil works better than extra virgin).
Add the peppers and onions to the pan and stir for 1-2 minutes, until they are partially cooked, but not all the way through. Remove and set aside.
Remove raccoon from oil; shaking off excess. Add to the pan and cook for 2-3 minutes, stirring constantly.
Return peppers and onions to pan and stir to combine. Remove everything from the pan.
Wipe pan clean and return to stove on medium-low heat. Add tortillas one at a time and warm, about 30 seconds per side. This makes them more pliable for wrapping around filling.
Assemble the fajitas using optional toppings and enjoy!