Episode 03 – Poached Morning Dove With Sautéed Onions & Mushrooms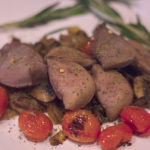 Ingredients:
4 cups chicken broth, low sodium
 sprig rosemary
1 Tbsp olive oil
1 Tbsp butter
1 pint crimini mushrooms, sliced
1 medium yellow onion, sliced
½ pint cherry tomatoes
3 doves, breasted
Salt and pepper, to taste
Directions:
Add the chicken broth and rosemary to a saucepan over high heat.
Heat the butter and oil in a skillet over medium heat. You'll know the oil is ready when it starts to shimmer.
Add the mushrooms, onions and tomatoes to the skillet and cook, stirring occasionally.
Once the chicken stock is boiling, remove it from heat and add the dove breasts. Let sit in the broth for 12 minutes.
Continue to stir the contents of the skillet while the breasts poach.
Once the twelve minutes is up, plate the onions, mushrooms, and tomatoes and top with the breasts.
Salt and pepper to taste and enjoy!