Crawfish Shakshuka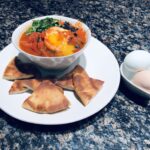 Ingredients
For the cajun seasoning:
1 Tbsp garlic powder
1 Tbsp onion powder
½ Tbsp black pepper
1 tsp dried thyme
1 tsp dried oregano
1 tsp cayenne pepper
For the shakshuka:
Olive oil
½ medium yellow onion, sliced
1 red bell pepper, julienned
1 yellow bell pepper, julienned
1 serrano pepper, sliced into rings with centers/seeds removed
2 cloves garlic, sliced
2½ Tbsp prepared cajun seasoning (above)
28 oz can peeled San Marzano tomatoes
15 oz can garbanzo beans, drained
½ lb crawfish meat, peeled, deveined, and cooked
1/3 cup black olives, sliced
1 cup water
Salt and pepper, to taste
½ cup parsley, roughly chopped (plus some for garnish)
4 eggs
For the pita:
Olive oil
2 6-8" pita bread
Directions
Prepare the cajun seasoning:
Mix together cajun seasoning ingredients. Keep leftovers in a sealed container.
Prepare the shakshuka:
Coat the bottom a large sauté pan (preferably with straight sides and large enough to hold all the ingredients) with olive oil and warm over medium-high heat. When hot, add onion, both bell peppers, and chili. Cook, stirring occasionally, until vegetables on the bottom are deeply browned and beginning to char in spots, about 10 minutes. Add garlic and cook for 30 seconds to a minute, until fragrant. Add cajun seasoning and stir in.
Add the can of tomatoes, mashing the tomatoes into bite size chunks with a wooden spoon. Cook until simmering, then add the garbanzo beans, crawfish meat, olives, and water. Reduce heat to low let and simmer for 10 minutes. Salt and pepper to taste and stir in the parsley.
Using your wooden spoon, create a depression near the edge of the pan, crack an egg into it, and then spoon some of the sauce over just the white of the egg. Repeat 3 more times evenly spaced around the pan, each time leaving the yolk exposed. Cook for 7-8 minutes. The white should be just cooked with the yolks still runny. Garnish with additional parsley
Prepare the pita:
Heat enough oil to coat a small  pan until shimmering. Add a pita and cook until browned, about 4-5 minutes. Slightly brush the top of the pita with oil and flip cooking for an additional 4-5 minutes. Repeat with another pita. Cut into sixths and serve.